Application
LV Aerial Bundle Cables(Recline Cables) are designed to supply 600/1000 volt aerial service for temporary service at construction sites, as a service drop (power pole to service entrance), as a secondary cable (pole to pole) or street lighting.
Aerial Bundle Cables, often referred to as Aerial Bundled Conductors or simply ABC, are cables for overhead line power, so called for combining multiple single core cables together. With applications including temporary power distribution to street lighting and secondary pole-to-pole service cables, they are lightweight stranded aluminium conductors, both single core and multi-cores.
Construction
Phase Conductor: AAC1350,
Neutral Conductor:AAC1350 /AAAC1120/AAAC6201/ACSR,
Insulation:PE/XLPE/PVC/LDPE/HDPE.

| | |
| --- | --- |
| Rated voltage | 0.6/1KV |
| Cores | 1,2,3, 4, 3+1,4+1 etc. |
| Section | 10mm2~120mm2 |
| Phase Conductor | Aluminium (AAC) |
| Neutral Conductor | AAAC/ACSR |
| Insulation | XLPE/ PE/ PVC/ LEPE/ HDPE |
| Standards: | NFC 33-209/ BS 7870-5/ IEC 60502/AS/NZS or according to your requirement. |
| Application | Overhead power transmission. |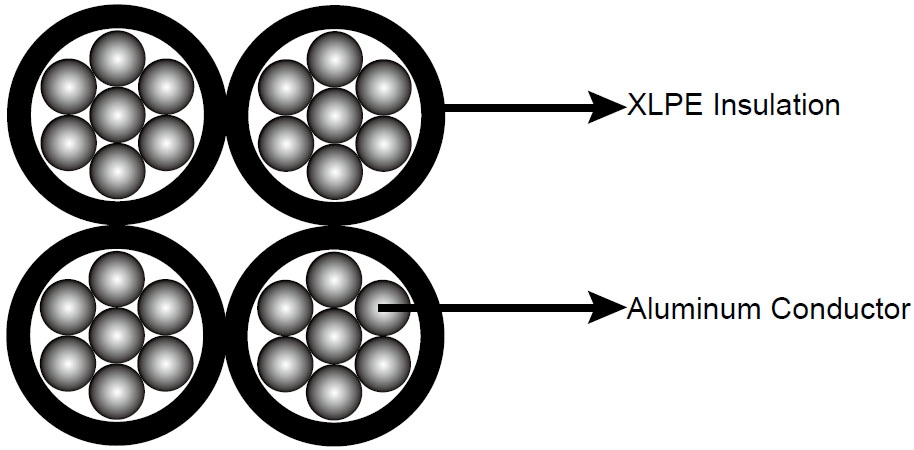 600/1000V ABC –Aerial Bundled Cables to AS/NZS 3560.1 (AL/XLPE)
| | | | | |
| --- | --- | --- | --- | --- |
| Number of cores x nominal cross section | min. breaking load of conductor strand | Current rating in the air | Outer diameter | Total weight |
| mm^2 | kN | A | mm | kg/km |
| 2x16 RM | 4.4 | 78 | 15.0 | 140 |
| 2x25 RM | 7.0 | 105 | 17.6 | 210 |
| 2x35 RM | 9.8 | 125 | 19.6 | 270 |
| 2x50 RM | 11.4 | 150 | 22.8 | 370 |
| 2x95 RM | 15.3 | 230 | 30.6 | 680 |
| 3x25 RM | 8.8 | 97 | 19.0 | 310 |
| 3x35 RM | 9.8 | 120 | 21.1 | 410 |
| 3x50 RM | 11.4 | 140 | 24.6 | 550 |
| 4x16 RM | 8.8 | 74 | 18.1 | 290 |
| 4x25 RM | 14.0 | 97 | 21.2 | 410 |
| 4x35 RM | 19.6 | 120 | 23.7 | 550 |
| 4x50 RM | 28.0 | 140 | 27.5 | 740 |
| 4x70 RM | 39.2 | 175 | 31.9 | 1000 |
| 4x95 RM | 53.2 | 215 | 36.9 | 1370 |
| 4x120 RM | 67.2 | 250 | 40.6 | 1690 |
| 4x150 RM | 84.0 | 280 | 43.9 | 2020 |
600/1000V ABC –Aerial Bundled Cables to BS 7870-5 (AL/XLPE)
| | | | | | |
| --- | --- | --- | --- | --- | --- |
| number of cores x nominal cross section | max. conductor- resistance | min. breaking load of conductor strand | Current rating in the air | Outer diameter | Total weight |
| mm^2 | Ohm/km | kN | A | mm | kg/km |
| 1x 16 RM | 1,910 | 2,5 | 72 | 80 | 74 |
| 1x 25 RM | 1,200 | 4,0 | 107 | 90 | 106 |
| 1x 35 RM | 0,868 | 5,5 | 132 | 105 | 138 |
| 1x 50 RM | 0,641 | 8,0 | 165 | 118 | 182 |
| 1x 70 RM | 0,443 | 10,7 | 205 | 130 | 252 |
| 1x 95 RM | 0,320 | 13,7 | 240 | 154 | 333 |
| 1x 120 RM | 0,253 | 18,6 | 290 | 170 | 408 |
| 1x 150 RM | 0,206 | 23,2 | 334 | 190 | 502 |
| 1x 185 RM | 0,164 | 28,7 | 389 | 210 | 611 |
| 1x 240 RM | 0,125 | 37,2 | 467 | 240 | 801 |
| 2x 16 RM | 1,910 | 2,5 | 72 | 156 | 147 |
| 2x 25 RM | 1,200 | 4,0 | 107 | 180 | 208 |
| 2x 35 RM | 0,868 | 5,5 | 132 | 200 | 277 |
| 2x 50 RM | 0,641 | 8,0 | 165 | 235 | 361 |
| 2x 70 RM | 0,443 | 10,7 | 205 | 254 | 505 |
| 2x 95 RM | 0,320 | 13,7 | 240 | 303 | 666 |
| 2x 150 RM | 0,206 | 23,2 | 334 | 380 | 1004 |
| 4x 16 RM | 1,910 | 2,5 | 72 | 188 | 286 |
| 4x 25 RM | 1,200 | 4,0 | 107 | 212 | 430 |
| 4x 35 RM | 0,868 | 5,5 | 132 | 241 | 553 |
| 4x 50 RM | 0,641 | 8,0 | 165 | 278 | 746 |
| 4x 70 RM | 0,443 | 10,7 | 205 | 318 | 1009 |
| 4x 95 RM | 0,320 | 13,7 | 240 | 378 | 1332 |
| 4x 120 RM | 0,253 | 18,6 | 290 | 544 | 1632 |
| 4x 50 + 1x 25 RM | 0,641/1,200 | 8,0/4,0 | 165/107 | 319 | 814 |
| 4x 50 + 1x 35 RM | 0,641/0,868 | 8,5/5,5 | 165/132 | 319 | 845 |
| 4x 70 + 1x 25 RM | 0,443/1,200 | 10,7/4,0 | 205/107 | 360 | 1105 |
| 4x 70 + 2x 25 RM | 0,443/1,200 | 10,7/4,0 | 205/107 | 400 | 1217 |
| 4x 95 + 1x 25 RM | 0,320/1,200 | 13,7/4,0 | 240/107 | 418 | 1438 |
| 4x 95 + 2x 25 RM | 0,320/1,200 | 13,7/4,0 | 240/107 | 420 | 1544 |
| 4x120 + 1x 25 RM | 0,253/1,200 | 18,6/4,0 | 290/107 | 590 | 2050 |
600/1000V ABC –Aerial Bundled Cables to IEC 60502 & TNB Specification (AL/PE)
| | | | | |
| --- | --- | --- | --- | --- |
| Number of cores x nominal cross section | min. breaking load of conductor strand | Current rating in the air | Outer diameter | Total weight |
| mm^2 | kN | A | mm | kg/km |
| 1x16+1x 25 RM | 6.4 | 61 | 15.3 | 160 |
| 3x16+1x 25 RM | 6.4 | 61 | 19.0 | 290 |
| 3x25+1x 25 RM | 6.4 | 84 | 23.2 | 400 |
| 3x35+1x 25 RM | 6.4 | 104 | 25.6 | 500 |
| 3x50+1x 35 RM | 8.9 | 129 | 30.0 | 680 |
| 3x70+1x 50 RM | 12.1 | 167 | 34.9 | 920 |
| 3x95+1x 70 RM | 18.0 | 209 | 40.6 | 1270 |
| 3x120+1x 70 RM | 18.0 | 246 | 44.1 | 1510 |
| 3x150+1x 95 RM | 24.2 | 283 | 49.2 | 1870 |
| 3x185+1x120 RM | 30.8 | 332 | 54.9 | 2340 |
| 3x25+1x25+1x16 RM | 6.4 | 84 | 23.2 | 470 |
| 3x35+1x25+1x16 RM | 6.4 | 104 | 25.6 | 560 |
| 3x50+1x35+1x16 RM | 8.9 | 129 | 30.0 | 740 |
| 3x70+1x50+1x16 RM | 12.1 | 167 | 34.9 | 980 |
| 3x95+1x70+1x16 RM | 18.0 | 209 | 40.6 | 1330 |
| 3x120+1x70+1x16 RM | 18.0 | 246 | 44.1 | 1580 |
| 3x150+1x95+1x16 RM | 24.2 | 283 | 49.2 | 1940 |
| 3x185+1x120+1x16 RM | 30.8 | 332 | 54.9 | 2410 |
other cross-sections on request