Application
ACSR conductors are widely used for electrical power transmission over long distances.
ACSR/AW ACSR/ASAluminum Conductor Aluminum Clad Steel Reinforced used in manufactured transmission lines
Construction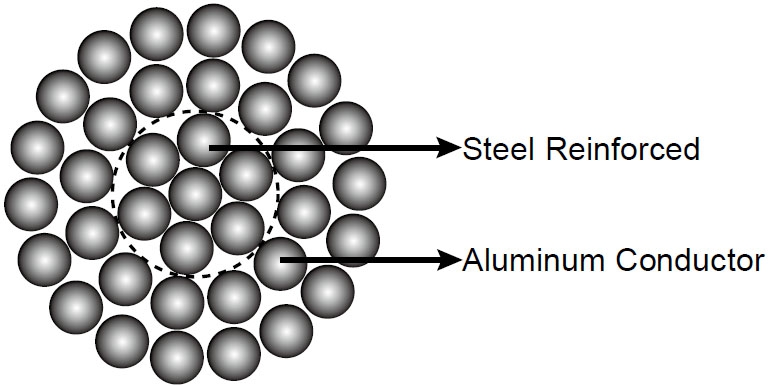 ACSR conductors are formed by several wires of aluminium and galvanized steel, stranded in concentric layers.
ACSR/AW ACSR/AS STRUCTURE:
Seal wire : Iron-plated stranded wire / Aluminum-sheathed stranded wire (AW)
Conductor : Standard aluminum cable
Contact us for more include Technical Support, Competitive Factory Price, Fast Delivery Service.
BS 215-2 BS EN 50182
Code

Nominal Area

Stranding

Overall Diameter

Weight(CU)

Rated

Strength

Electrical

Resistance

@20o

AL

Steel

Total

AL

Steel

Core

Total

AL

Steel

Total

Nominal

Teorical

mm^2

mm^2

mm^2

mm^2

No.xmm

No.xmm

mm

mm

Kg/Km

Kg/Km

Kg/Km

KN

Ω/Km

Mole

10

10.62

1.77

12.39

6/1.50

1/1.50

1.5

4.5

29

14

43

4.14

2.706

Squirrel

20

20.94

3.49

24.43

6/2.11

1/2.11

2.11

6.33

57

28

85

7.88

1.368

Gopher

25

26.24

4.38

30.62

6/2.36

1/2.36

2.36

7.08

71

35

106

9.61

1.093

Weasel

30

31.61

5.27

36.88

6/2.59

1/2.59

2.59

7.77

87

41

128

11.45

0.9077

Fox

35

36.66

6.11

42.77

6/2.79

1/2.79

2.79

8.37

101

48

149

13.2

0.7822

Ferret

40

42.41

7.07

49.48

6/3.00

1/3.00

3

9

117

55

172

15.2

0.6766

Rabbit

50

52.88

8.82

61.7

6/3.35

1/3.35

3.35

10.05

145

69

214

18.35

0.5426

Mink

60

63.18

10.53

73.71

6/3.66

1/3.66

3.66

10.98

171

84

255

2.18

0.4545

Shunk

60

63.27

37.03

100.3

12/2.59

7/2.59

7.77

12.95

178

287

465

5.3

0.4567

Beaver

70

74.82

12.47

87.29

6/3.99

1/3.99

3.99

11.97

203

99

302

2.57

0.3825

Horse

70

73.37

42.63

116.2

12/2.79

7/2.79

8.37

13.95

203

335

538

61.2

0.3936

Racoon

75

79.2

13.2

92.4

6/4.1

1/4.1

4.1

12.3

216

104

320

27.2

0.3622

Otter

80

83.88

13.98

97.86

6/4.22

1/4.22

4.22

13.98

226

113

339

28.8

0.3419

Cat

90

95.44

15.86

111.3

6/4.5

1/4.5

4.5

15.9

258

128

386

32.7

0.3007

Hare

100

105

17.5

122.5

6/4.72

1/4.72

4.72

17.5

284

141

425

36

0.2733

Dog

100

105

13.5

118.5

6/4.72

7/1.57

4.71

14.15

288

106

394

32.7

0.2733

Hyena

100

105.8

20.4

126.2

7/4.39

7/1.93

5.79

14.57

250

200

450

40.9

0.2712

Leoperd

125

131.3

16.8

148.1

8/5.28

7/1.75

5.25

15.81

310

182

492

40.7

0.2184

Coyotte

125

132.1

20.1

152.2

26/2.54

7/1.91

5.73

15.89

410

112

522

46.4

0.2187

Congar

125

130.3

7.2

137.5

18/3.05

1/3.05

3.05

15.25

361

58

419

29.8

0.2189

Tiger

125

131.1

30.6

161.7

30/2.36

7/2.36

7.08

16.52

365

237

602

58

0.2202

Wolf

150

158.1

36.8

194.9

30/2.59

7/2.59

7.77

18.13

441

285

726

69.2

0.1828

Dingo

150

158.7

8.8

167.5

18/3.35

1/3.35

3.35

16.75

437

69

506

35.7

0.1815

Lynx

175

183.4

42.8

226.2

30/2.79

7/2.79

8.37

19.53

507

335

842

79.8

0.1576

Caracal

175

184.3

10.2

194.5

18/3.61

1/3.61

3.61

18.05

507

80

587

41.1

0.1563

Panther

200

212.1

49.4

261.5

30/3.00

7/3.00

9

21

586

388

974

92.25

0.1363

Jaguar

200

210.6

11.7

222.3

18/3.86

1/3.86

3.86

19.3

580

91

671

46.55

0.1367

Lion

225

238.5

55.7

294.2

30/3.18

7/3.18

9.54

22.26

657

438

1095

100.6

0.1212

Bear

250

264

61.6

325.6

30/3.35

7/3.35

10.05

23.45

728

485

1213

111.1

0.109

Goat

300

324.3

75.7

400

30/3.71

7/3.71

11.13

25.79

894

595

1489

135.7

0.0891

Sheep

350

374.1

87.3

461.4

30/3.99

7/3.99

11.97

27.93

1031

687

1718

155.9

0.077

Antilope

350

373.1

48.4

421.5

54/2.97

7/2.97

8.91

26.73

1040

371

1411

118.2

0.0772

Bizon

350

381.8

49.5

431.3

54/3.00

7/3.00

9

27

1064

380

1444

120.9

0.7573

Zebra

400

428.9

55.6

484.5

54/3.18

7/3.18

9.54

28.62

1185

436

1621

131.9

0.0674
Aluminum Conductors Steel Reinforced DIN 48204
Area

Stranding and wire diameter

Overall

Diameter

Linear mass

Nominal

breaking load

Maximum

resistance at 20 ℃

Nominal

Actual

Al/St

Al

St

Total

Al

St

Al

St

Total

mm2

mm2

mm2

mm2

mm

mm

mm

kg/km

kg/km

kg/km

daN

ohm/km

16/2.5

15.3

2.5

17.8

6/1.80

1/1.80

5.4

42

20

62

595

1.8780

25/4.0

23.8

4.0

27.8

6/2.25

1/2.25

6.8

65

32

97

920

1.2002

36/6.0

34.3

5.7

40.0

6/2.70

1/2.70

8.1

94

46

140

1265

0.8352

44/32.0

44.0

31.7

75.7

14/2.00

7/2.40

11.2

122

250

372

4500

0.6573

50/8.0

48.3

8.0

56.3

6/3.20

1/3.20

9.6

132

64

196

1710

0.5946

50/30

51.2

29.8

81.0

12/2.33

7/2.33

11.7

141

237

378

4380

0.5643

70/12

69.9

11.4

81.3

26/1.85

7/1.44

11.7

193

91

284

2680

0.4130

95/15

94.4

15.3

109.7

26/2.15

7/1.67

13.6

260

123

383

3575

0.3058

95/55

96.5

56.3

152.8

12/3.20

7/3.20

16.0

266

446

712

7935

0.2992

105/75

105.7

75.5

181.5

14/3.10

9/2.25

17.5

292

599

891

10845

0.2735

120/20

121.06

19.8

141.4

26/2.44

7/1.90

15.5

336

158

494

4565

0.2374

120/70

122.0

71.3

193.3

12/3.6

7/3.60

18.0

337

564

901

10000

0.2364

125/30

127.9

29.8

157.7

30/2.33

7/2.33

16.3

353

238

591

5760

0.2259

150/25

148.9

24.2

173.1

26/2.70

7/2.10

17.1

411

194

605

5525

0.1939

170/40

171.8

40.1

211.9

30/2.70

7/2.70

18.9

475

319

794

7675

0.1682

185/30

183.8

29.8

213.6

26/3.00

7/2.33

19.0

507

239

746

6620

0.1571

210/35

209.1

34.1

243.2

26/3.20

7/2.49

20.3

577

273

850

7490

0.1380

210/50

212.1

49.5

261.6

30/3.00

7/3.00

21.0

587

394

981

9390

0.1362

230/30

230.9

29.8

260.7

24/3.50

7/2.33

21.0

638

239

877

7310

0.1249

240/40

243.0

39.5

282.5

26/3.45

7/2.68

21.9

671

316

987

8640

0.1188

265/35

263.7

34.1

297.8

24/3.74

7/2.49

22.4

728

274

1002

8305

0.1094

300/50

304.3

49.5

353.7

26/3.86

7/3.00

24.5

840

396

1236

10700

0.09487

305/40

304.6

39.5

344.1

54/2.68

7/2.68

24.1

843

317

1160

9940

0.0949

340/30

339.3

29.8

369.1

48/3.00

7/2.33

25.0

938

242

1180

9290

0.08509

380/50

382.0

49.5

431.5

54/3.00

7/3.00

27.0

1056

397

1453

12310

0.08509

385/35

386.0

34.1

420.1

48/3.20

7/2.49

26.7

1067

277

1344

10480

0.07573

435/55

434.03

59.3

490.6

54/3.20

7/3.20

28.8

1203

450

1653

13645

0.07478

450/40

448.7

39.5

488.2

48/3.45

7/2.68

28.7

1241

320

1561

12075

0.06656

490/65

490.3

63.6

553.9

54/3.40

7/3.40

30.6

1356

510

1866

15310

0.06434

495/35

494.1

34.1

528.2

45/3.74

7/2.49

29.9

1363

283

1646

12180

0.05846

510/45

510.2

45.3

555.5

48/3.68

7/2.87

30.7

1413

365

1778

13665

0.05655

550/70

550.0

71.3

621.3

54/3.60

7/3.60

32.4

1520

572

2092

17060

0.05259

560/50

561.7

49.5

611.2

48/3.86

7/3.00

32.2

1553

401

1954

14895

0.0514

570/40

565.5

39.5

610.3

45/4.00

7/2.68

32.2

1563

325

1888

13900

0.05108

650/45

698.8

45.3

653.49

45/4.30

7/2.87

34.4

1791

372

2163

15552

0.0442

680/85

678.8

86.0

764.8

54/4.00

18/2.40

36.0

1866

702

2570

21040

0.0426

1045/45

1045.58

45.3

1090.9

72/4.30

7/2.87

43.0

2879

370

3249

21787

0.0277
ASTM B 232/B 232M CSA C49
Code word

Size

Nº of wire

Nominal wire diameter

Steel cobre diameter

Overall cable diameter

Aluminum cross section








Aluminum

Steel










AWG or kcmil

Aluminum

Steel

mm

mils

mm

mils

mm

in

mm

in

mm²

kcmil

Petrel

101,8

12

7

2,34

92,1

2,34

92,1

7,02

0,276

11,7

0,46

51,6

101,8

Minorca

110,8

12

7

2,44

96,1

2,44

96,1

7,32

0,288

12,2

0,481

56,2

110,8

Leghorn

134,6

12

7

2,69

105,9

2,69

105,9

8,07

0,318

13,5

0,53

68,2

134,6

Guinea

159

12

7

2,92

115,1

2,92

115,1

8,77

0,345

14,6

0,58

80,6

159

Dotterel

176,9

12

7

3,08

121,4

3,08

121,4

9,25

0,364

15,4

0,607

89,6

176,9

Dorking

190,8

12

7

3,20

126,1

3,20

126,1

9,61

0,378

16,0

0,631

96,7

190,8

Brahma

203,2

16

19

2,86

112,7

2,48

97,7

12,4

0,489

18,1

0,714

103

203,3

Dog

207,2

6

7

4,72

185,8

1,57

61,8

4,71

0,185

14,2

0,557

105

207,2

Cochin

211,3

12

7

3,37

132,7

3,37

132,7

10,1

0,398

16,9

0,66

107

211,2

Wren

8

6

1

1,33

52,4

1,33

52,4

1,33

0,052

4,0

0,157

8,30

16,5

Turkey

6

6

1

1,68

66,1

1,68

66,1

1,68

0,066

5,0

0,198

13,30

26,2

Thrush

5

6

1

1,89

74,4

1,89

74,4

1,89

0,074

5,7

0,223

16,80

33,2

Swan

4

6

1

2,12

83,4

2,12

83,4

2,12

0,083

6,4

0,25

21,14

41,7

Swanate

4

7

1

1,96

77,2

2,61

102,8

2,61

0,103

6,5

0,257

21,12

41,7

Swallow

3

6

1

2,38

93,7

2,38

93,7

2,38

0,094

7,1

0,281

26,69

52,7

Sparrow

2

6

1

2,67

105,2

2,67

105,2

2,67

0,105

8,0

0,316

33,64

66,4

Sparate

2

7

1

2,47

97,4

3,29

129,5

3,29

0,13

8,2

0,324

33,65

66,4

Robin

1

6

1

3,00

118,1

3,00

118,1

3,00

0,118

9,0

0,354

42,41

83,7

Raven

1/0

6

1

3,37

132,7

3,37

132,7

3,37

0,133

10,1

0,398

53,55

105,7

Quail

2/0

6

1

3,78

148,9

3,78

148,9

3,78

0,149

11,4

0,447

67,40

133

Pigeon

3/0

6

1

4,25

167,2

4,25

167,2

4,25

0,167

12,7

0,502

85,00

167,7

Auk

203

8

7

4,05

159,3

2,25

88,6

6,75

0,266

14,8

0,584

102,9

203

Penguin

4/0

6

1

4,77

187,8

4,77

187,8

4,77

0,188

14,3

0,563

107,2

211,6

Coyote

260

26

7

2,54

100,0

1,98

78,0

5,94

0,234

16,1

0,634

131,7

260

Waxwing

266,8

18

1

3,09

121,7

3,09

121,7

3,09

0,122

15,5

0,608

135,1

266,8

Owl

266,8

6

7

5,36

211,0

1,79

70,5

5,37

0,211

16,1

0,633

135,4

266,8

Partridge

266,8

26

7

2,57

101,3

2,00

78,8

6,01

0,236

16,3

0,642

135,2

266,8

Phoebe

300

18

1

3,28

129,1

3,28

129,1

3,28

0,129

16,4

0,646

152,1

300,2

Ostrich

300

26

7

2,73

107,4

2,12

83,5

6,36

0,251

17,3

0,680

152,0

299,9

Piper

300

30

7

2,54

100

2,54

100

7,62

0,3

17,8

0,700

152,0

300

Merlin

336,4

18

1

3,47

136,7

3,47

136,7

3,47

0,137

17,4

0,683

170,4

336,4

Linnet

336,4

26

7

2,89

113,7

2,25

88,4

6,74

0,265

18,3

0,720

170,3

336,4

Oriole

336,4

30

7

2,69

105,9

2,69

105,9

8,07

0,318

18,8

0,741

170,5

336,4

Chickadee

397,5

18

1

3,77

148,6

3,77

148,6

3,77

0,149

18,9

0,743

201,4

397,5

Brant

397,5

24

7

3,27

128,7

2,18

85,8

6,54

0,257

19,6

0,772

201,4

397,5



Code word

Size

Nº of wire

Nominal wire diameter

Steel care diameter

Overall cable diameter

Aluminum cross section








Aluminum

Steel










AWG or kcmil

Aluminum

Steel

mm

mils

mm

mils

mm

in

mm

in

mm²

kcmil

Ibis

397,5

26

7

3,14

123,6

2,44

96,1

7,32

0,288

19,9

0,783

201,2

397,5

Lark

397,5

30

7

2,92

115,1

2,92

115,1

8,77

0,345

20,5

0,806

201,4

397,5

Pelican

477

18

1

4,14

162,8

4,14

162,8

4,14

0,163

20,7

0,814

241,7

477

Flicker

477

24

7

3,58

141,0

2,39

94,0

7,16

0,282

21,5

0,846

241,7

477

Hawk

477

26

7

3,44

135,4

2,68

105,3

8,03

0,316

21,8

0,858

241,5

477

Hen

477

30

7

3,20

126,1

3,20

126,1

9,61

0,378

22,4

0,883

241,7

477

Heron

500

30

7

3,28

129,1

3,28

129,1

9,84

0,387

23,0

0,904

253,5

500

Osprey

556,5

18

1

4,47

175,8

4,47

175,8

4,47

0,176

22,3

0,879

281,8

556,5

Parakeet

556,5

24

7

3,87

152,3

2,58

101,5

7,73

0,304

23,2

0,914

282

556,5

Dove

556,5

26

7

3,72

146,3

2,89

113,8

8,67

0,341

23,5

0,927

282

556,5

Eagle

556,5

30

7

3,46

136,2

3,46

136,2

10,4

0,409

24,2

0,953

281,9

556,5

Peacock

605

24

7

4,03

158,8

2,69

105,9

8,07

0,318

24,2

0,953

306,7

605

Squab

605

26

7

3,87

152,5

3,01

118,6

9,04

0,356

24,5

0,966

306,5

605

Woodduck

605

30

7

3,61

142,0

3,61

142,0

10,8

0,426

25,3

0,994

306,6

605

Teal

605

30

19

3,61

142,0

2,16

85,2

10,82

0,426

25,3

0,994

306,6

605

Duck

605

54

7

2,69

105,9

2,69

105,9

8,07

0,318

24,2

0,953

306,9

605

Kingbird

636

18

1

4,78

188,0

4,78

188,2

4,78

0,188

23,9

0,94

322,3

636

Rook

636

24

7

4,14

162,8

2,76

108,5

8,27

0,326

24,8

0,977

322,3

636

Grosbeak

636

26

7

3,97

156,4

3,09

121,6

9,27

0,365

25,2

0,991

322,3

636

Scoter

636

30

7

3,70

145,6

3,70

145,6

11,1

0,437

25,9

1,019

322,2

636

Egret

636

30

19

3,70

145,6

2,22

87,4

11,1

0,437

25,9

1,019

322,2

636

Swift

636

36

1

3,38

132,9

3,38

132,9

3,38

0,133

23,6

0,93

322,3

636

Goose

636

54

7

2,76

108,5

2,76

108,7

8,28

0,326

24,8

0,977

322,1

636

Flamingo

666,6

24

7

4,23

166,7

2,82

111,1

8,47

0,333

33,9

1,333

337,8

666,6

Gannet

666,6

26

7

4,07

160,1

3,16

124,5

9,49

0,373

25,8

1,014

337,8

666,6

Gull

666,6

54

7

2,82

111,0

2,82

111,0

8,46

0,333

25,4

0,999

337,3

665,6

Stilt

715,5

24

7

4,39

172,7

2,92

115,1

8,77

0,345

26,3

1,036

362,6

715,6

Starling

715,5

26

7

4,21

165,9

3,28

129

9,83

0,387

26,7

1,051

362,6

715,6

Redwing

715,5

30

19

3,92

154,4

2,35

92,6

11,8

0,463

27,5

1,081

362,4

715,3

Crow

715,5

54

7

2,92

115

2,92

115,0

8,8

0,345

26,3

1,035

361,6

713,7

Cuckoo

795

24

7

4,62

182

3,08

121,3

9,2

0,364

27,7

1,092

402,9

795

Drake

795

26

7

4,44

174,9

3,45

136,0

10,4

0,408

28,1

1,107

402,9

795,2

Coot

795

36

1

3,77

148,6

3,77

148,6

3,8

0,149

26,4

1,04

402,7

794,8

Tern

795

45

7

3,38

132,9

2,25

88,6

6,8

0,266

27,0

1,063

402,8

795

Condor

795

54

7

3,08

121,3

3,08

121,3

9,2

0,364

27,7

1,092

402,6

794,5

Mallard

795

30

19

4,14

162,8

2,48

97,7

12,4

0,489

29,0

1,14

402,9

795,1



Code word

Total mass

Stress at 1% extension of each steel wire

Rated strength ACSR

Nominal d.c. resistance at 20 ºC

Ampacity




Aluminum

Steel

Total












kg/km

lb/ kft

kg/km

lb/ kft

kg/km

lb/ kft

Mínimo

Minimum

kgf

kips

W/ km

W/ kft

A*
















MPa

ksi












Ibis

557,9

374,9

256,0

172

812,6

546,0

1275

185

7394

16,3

0,1435

0,0437

587

Lark

559,9

376,2

372,9

250,5

925,3

621,8

1275

185

9208

20,3

0,1437

0,0438

595

Pelican

666,9

448,1

105,0

70,6

769,8

517,3

1172

170

5352

11,8

0,1189

0,0362

646

Flicker

670,2

450,3

245,0

164,6

913,6

613,9

1275

185

7802

17,2

0,120

0,0364

655

Hawk

669,6

449,9

307,3

206,5

977

656,4

1275

185

8860

19,5

0,1196

0,0364

659

Hen

671,9

451,5

440,6

296

1112

747,5

1241

180

10804

23,8

0,1197

0,0365

667

Heron

704,5

473,4

462,0

310,4

1167

783,9

1241

180

11330

25,0

0,1142

0,0348

687

Osprey

777,6

522,5

121,8

81,86

899

604,4

1172

170

6220

13,7

0,102

0,0311

711

Parakeet

781,9

525,4

285,4

191,8

1067

717,2

1275

185

8988

19,8

0,1024

0,0312

721

Dove

781,8

525,3

358,9

241,2

1141

766,5

1275

185

10255

22,6

0,1024

0,0312

726

Eagle

783,5

526,5

513,8

345,3

1297

871,8

1241

180

12600

27,8

0,1027

0,0313

734

Peacock

850,5

571,5

310,7

208,8

1161

780,3

1275

185

9781

21,6

0,094

0,0287

760

Squab

849,7

571

389,6

261,8

1239

832,8

1275

185

11037

24,3

0,094

0,0287

765

Woodduck

852

572,5

558,7

375,4

1411

948,0

1172

170

13118

28,9

0,094

0,0288

774

Teal

852

572,5

546,9

367,5

1399

940,0

1310

190

13592

30,0

0,094

0,0288

773

Duck

850,9

571,8

310,7

208,8

1162

780,6

1275

185

10073

22,2

0,094

0,0287

751

Kingbird

889,4

597,6

139,6

93,81

1029

691,4

1172

170

7117

15,7

0,089

0,0272

774

Rook

893,6

600,5

326,2

219,2

1220

819,6

1275

185

10272

22,6

0,090

0,0273

784

Grosbeak

893,7

600,5

409,8

275,3

1303

875,9

1241

180

11432

25,2

0,090

0,0273

789

Scoter

895,6

601,8

587,3

394,6

1483

996,4

1172

170

13789

30,4

0,090

0,0274

798

Egret

895,6

601,8

575,6

386,8

1471

988,6

1310

190

14299

31,5

0,090

0,0274

798

Swift

889,1

597,5

69,6