Application
Used as bare overhead transmission cable and as primary and secondary distribution cable. A good strength-to-weight ratio makes ACAR applicable where both ampacity and strength are prime considerations in line design; for equal weight, ACAR offers higher strength and ampacity than ACSR.
Construction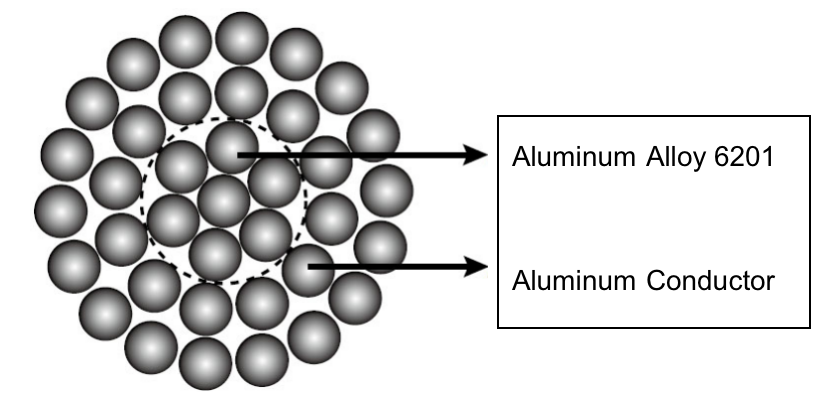 Specification
ACAR bare conductor meets or exceeds the following ASTM specifications:
• B230 Aluminum 1350-H19 Wire for Electrical Purposes.
• B398 Aluminum-Alloy 6201-T81 Wire for Electrical Purposes.
• B524 Concentric-Lay-Stranded Aluminum Conductors, Aluminum-Alloy Reinforced (ACAR, 1350/6201).

Aluminum 1350-H19 wires, concentrically stranded about an aluminum-alloy 6201-T81 core. Although the alloy strands generally comprise the core of the conductor, in some constructions they are distributed in layers throughout the aluminum 1350-H19 strands.

Size

Stranding

Overall cable diameter

Mass




Total Nº of wires

Nº of 1350 wires

Nº of 6201 wires

Wire diameter






AWG or kcmil

mm²








mm

mils

mm

in

kg/km

lb/kft

4

21,1

7

4

3

1,961

77,220

5,88

0,23

58,22

39,12

2

33,63

7

4

3

2,473

97,365

7,42

0,29

92,55

62,19

1/0

53,51

7

4

3

3,120

122,824

9,36

0,37

147,3

98,97

2/0

67,44

7

4

3

3,502

137,892

10,51

0,41

185,6

124,7

3/0

85,03

7

4

3

3,933

154,827

11,80

0,46

234,0

157,3

195,7

99,16

7

4

3

4,247

167,204

12,74

0,50

272,9

183,4

4/0

107,22

7

4

3

4,416

173,864

13,25

0,52

295,1

198,3

250

126,68

19

12

7

2,914

114,708

14,57

0,57

348,8

234,4

300

152,01

19

12

7

3,192

125,656

15,96

0,63

418,6

281,3

350

177,35

19

15

4

3,447

135,724

17,24

0,68

488,7

328,4

350

177,35

19

12

7

3,447

135,724

17,24

0,68

488,3

328,1

355

179,88

19

12

7

3,472

136,690

17,36

0,68

495,3

332,8

392,5

198,88

37

24

13

2,616

102,996

18,3

0,72

547,7

368,0

400

202,68

19

12

7

3,69

145,10

18,4

0,73

558,1

375,0

450

228,02

19

12

7

3,91

153,90

19,54

0,77

627,8

421,9

450

228,02

37

18

19

2,80

110,28

19,61

0,77

627,3

421,5

450

228,02

19

15

4

3,91

153,90

19,54

0,77

628,4

422,3

465,9

236,08

19

12

7

3,98

156,59

19,89

0,78

650,0

436,8

465,9

236,08

37

18

19

2,85

112,21

19,95

0,79

649,5

436,4

500

253,35

19

12

7

4,120

162,221

20,6

0,81

697,6

468,8

500

253,35

37

18

19

2,953

116,248

20,7

0,81

697,0

468,4

500

253,35

37

30

7

2,95

116,25

20,7

0,81

698,3

469,2

500

253,35

37

24

13

2,95

116,25

20,7

0,81

697,7

468,8

550

278,69

37

18

19

3,10

121,92

21,68

0,85

766,7

515,2

550

278,69

19

15

4

4,32

170,14

21,61

0,85

768,0

516,1

600

304,02

37

18

19

3,23

127,34

22,64

0,89

836,4

562,1

600

304,02

37

24

13

3,235

127,343

22,64

0,89

837,2

562,6

650

329,36

37

18

19

3,37

132,54

23,57

0,93

906,1

608,9

650

329,36

37

24

13

3,37

132,54

23,57

0,93

907,0

609,4

700

354,70

37

30

7

3,49

137,55

24,46

0,96

977,6

656,9

700

354,70

37

18

19

3,49

137,55

24,46

0,96

975,9

655,7

700

354,70

37

24

13

3,49

137,55

24,46

0,96

976,7

656,3

739,8

374,86

37

18

19

3,59

141,40

25,14

0,99

1031

693,0

750

380,03

37

33

4

3,62

142,37

25,31

1,00

1048

704,2

750

380,03

37

30

7

3,62

142,37

25,31

1,00

1047

703,8

750

380,03

37

18

19

3,62

142,37

25,31

1,00

1046

702,6

750

380,03

37

24

13

3,62

142,37

25,31

1,00

1046

703,2

800

405,37

37

18

19

3,735

147,043

26,14

1,03

1115

749,4

800

405,37

37

24

13

3,735

147,043

26,14

1,03

1116

750,1

850

430,70

37

18

19

3,85

151,57

26,95

1,06

1185

796,2

850

430,70

37

24

13

3,85

151,57

26,95

1,06

1186

797,0

853,7

432,58

37

24

13

3,86

151,90

27,01

1,06

1191

800,4

853,7

432,58

37

30

7

3,86

151,90

27,01

1,06

1192

801,2

900

456,04

37

18

19

3,96

155,96

27,7

1,1

1255

843,1

900

456,04

37

24

13

3,961

155,963

27,73

1,09

1256

843,8

900

456,04

37

30

7

3,96

155,96

27,7

1,1

1257

844,6

918

465,16

37

18

19

4,00

157,51

28,0

1,1

1280

859,9

927,2

469,82

37

18

19

4,02

158,30

28,1

1,1

1293

868,6

950

481,37

37

18

19

4,07

160,24

28,49

1,12

1324

889,9

950

481,37

37

30

7

4,070

160,236

28,5

1,1

1327

891,5

950

481,37

37

24

13

4,070

160,236

28,49

1,12

1326

890,7
Aluminum Conductors Aluminum Alloy Reinforced IEC 61089

Characteristics of A1/A2 Conductors

Code number


Diameter

No. of wires

Areas

Linear mass
kg/km

Rated strength
kN

D.C resistance
Ohm/km

Wire
mm

Cond.
mm

A1

A2

A1
mm2

A2
mm2

Total
mm2

16

1.76

5.28

4

3

9.73

7.3

17

46.6

3.85

1.7896

25

2.2

6.6

4

3

15.2

11.4

26.6

72.8

5.93

1.1453

40

2.78

8.35

4

3

24.3

18.3

42.6

116.5

9.25

0.7158

63

3.49

10.5

4

3

38.3

28.7

67.1

183.5

14.38

0.4545

100

4.4

13.2

4

3

60.8

45.6

106

291.2

22.52

0.2863

125

2.97

14.9

12

7

83.3

48.6

132

362.7

27.79

0.2302

160

3.36

16.8

12

7

107

62.2

169

464.2

35.04

0.1798

200

3.76

18.8

12

7

133

77.8

211

580.3

43.13

0.1439

250

4.21

21

12

7

167

97.2

264

725.3

53.92

0.1151

250

3.04

21.3

18

19

131

138

269

742.2

60.39

0.1154

315

3.34

23.4

30

7

263

61.3

324

892.6

60.52

0.0916

315

3.42

23.9

18

19

165

174

339

935.1

76.09

0.0916

400

3.76

26.3

30

7

334

77.8

411

1133.5

75.19

0.0721

400

3.85

27

18

19

210

221

431

1187.5

95.58

0.0721

450

3.99

27.9

30

7

375

87.6

463

1275.2

84.59

0.0641

450

4.08

28.6

18

19

236

249

485

1335.9

107.52

0.0641

500

4.21

29.4

30

7

417

97.3

514

1416.9

93.98

0.0577

500

4.31

30.1

18

19

262

277

539

1484.3

119.47

0.0577

560

4.45

31.2

30

7

467

109

576

1586.9

105.26

0.0515

560

3.45

31

54

7

504

65.4

570

1571.9

101.54

0.0516

630

3.71

33.4

42

19

454

205

660

1820.0

130.25

0.0458

630

3.79

34.1

24

37

271

417

688

1897.5

160.19

0.0458

710

3.94

35.5

42

19

512

232

743

2051.2

146.78

0.0407

710

4.02

36.2

24

37

305

470

775

2138.4

180.53

0.0407

800

4.18

37.6

42

19

577

261

838

2311.2

165.39

0.0361

800

4.27

38.4

24

37

344

530

873

2409.5

203.41

0.0361

900

4.43

39.9

42

19

649

294

942

2600.1

186.06

0.0321

900

3.66

40.2

54

37

567

388

955

2638.4

199.54

0.0321

1000

3.8

41.8

72

19

816

215

1032

2849.1

190.94

0.0289

1000

3.85

42.4

54

37

630

432

1061

2931.6

221.71

0.0289

1120

4.02

44.2

72

19

914

241

1155

3191.0

213.85

0.0258

1120

4.08

44.9

54

37

705

483

1189

3283.4

248.32

0.0258

1250

4.25

46.7

72

19

1020

269

1289

3561.4

238.68

0.0231

1250

4.31

47.4

54

37

787

539

1327

3664.5

277.14

0.0231

1400

4.5

49.4

72

19

1143

302

1444

3988.8

267.32

0.0207