Application
Concentric cables are used for power supplies with Protective Multiple Earthing (PME) systems, where a combined Protective Earth (PE) and Neutral (N) – together known as the PEN – connects the combined neutral-and-earth to real earth at multiple locations to reduce the risk of electric shock in the event of a broken PEN.
Split Concentric Cables are used when the power supply has separate PE & N conductors and are only combined as PEN near the power source. The Protective Earth and Neutral are not connected after the building entry point.

Construction
Voltage: 0.6/1kV
Size(mm2 orAWG):
10mm2, 16mm2, 25mm2, 35mm2, 50mm2,70mm2, 95mm2, 2x8Awg, 2x6Awg, 2x4Awg, 2x2Awg, 2×1/0Awg, 2×2/0Awg, 2x8Awg, 2x10Awg, 3x8Awg, 2x6Awg, 3x6Awg, 2x4Awg, 3x4Awg, 2x2Awg,3x2Awg, 3×1/0Awg,3×2/0Awg, 4x8Awg, 4x6Awg, 4x4Awg, 4x2Awg,Other size can customize.
Conductor: Copper, AAC, AAAC, Copper clad aluminum
Insulated: XLPE/PVC/PE
Out Sheath: PE/PVC
Standards: IECA/NFC.
600/1000V SINGLE PHASE CONCENTRIC CABLES WITH STRANDED COPPER CONDUCTORS AND COPPER WIRE NEUTRAL CONDUCTORS
PHASE CONDUCTOR

CONCENTRIC NEUTRAL CONDUCTORS NUMBER AND APPROX. DIAMETER OF WIRES

LAY LENGTHS

THICKNESS OF OVER- SHEATH

APPROX. OVERALL DIAMETER OF CABLE

max. d.c. CONDUCTOR RESISTANCE PER 1 000 m OF CABLE

AT 20 0 C

Nominal area

Number and approximate diameter of wires

Thickness of insulation

Phase

Neutral

mm2

mm

mm

mm

min

mm

max

mm

mm

mm

W

W

4

7/0.85

1.55

24/0.85

59

118

1.4

9.75

4.61

1.343

6

7/1.04

1.55

26/0.85

63

127

1.4

10.72

3.08

1.240

10

7/1.35

1.55

29/0.85

71

142

1.4

11.73

1.83

1.151

16

7/1.70

1.55

26/1.13

84

167

1.4

12.78

1.15

1.007 4

25

7/2.14

1.60

29/1.13

95

190

1.5

14.88

0.727

0.629

35

19/1.53

1.65

28/1.35

109

218

1.6

16.75

0.524

0.473
600/1000V SINGLE PHASE CONCENTRIC CABLES WITH STRANDED ALUMINIUM CONDUCTORS AND ALUMINIUM WIRE NEUTRAL CONDUCTORS
PHASE CONDUCTOR

CONCENTRIC NEUTRAL CONDUCTORS NUMBER AND APPROX. DIAMETER OF WIRES

LAY LENGTHS

THICKNESS OF OVER- SHEATH

APPROX. OVERALL DIAMETER OF CABLE

max. d.c. CONDUCTOR RESISTANCE PER 1000 M OF CABLE AT 200 C.

Nominal area

Number and approximate diameter of wires

Thickness of insulation

Phase

Neutral

mm2

mm

mm

mm

min

mm

max

mm

mm

mm

W

W

10

7/1.35

1.55

23/1.13

75

151

1.4

12.21

3.08

1.335

16

7/1.70

1.55

26/1.13

84

167

1.4

13.34

1.91

1.808

25

7/2.14

1.60

29/1.13

95

190

1.5

14.88

1.20

1.058 6

35

19/1.53

1.65

27/1.35

109

218

1.6

16.75

0.868

1.796 6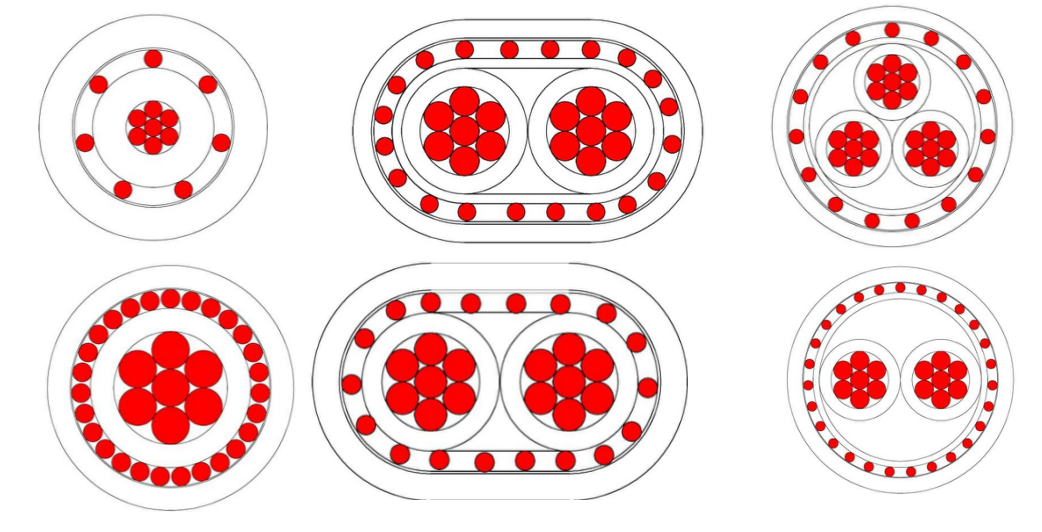 Aluminium Concentric BS 7870 PVC Cable

Copper LSZH Split Concentric BS7870

Aluminium Concentric BS 7870 LSZH Cable

Aluminium Split Concentric BS 7870 PVC Cable

Aluminium Split Concentric BS 7870 LSZH Cable

Copper Concentric BS 7870 PVC Cable

Copper Split Concentric BS 7870 PVC Cable

VOLTAGE

0.6/1kV

CONDUCTOR

Class 1 Solid Aluminium

Class 2 stranded Copper

Class 1 Solid Aluminium

-

-

INSULATION

XLPE (Cross-Linked Polyethylene)

XLPE (Cross-linked Polyethylene)

XLPE (Cross-Linked Polyethylene)

CONCENTRIC CONDUCTOR

Single Layer of Plain Copper Wires




Single Layer of Plain Copper Wires

-

Single Layer of Plain Copper Wires

-

NEUTRAL CONDUCTOR

-

Plain Copper Wires covered by a Polymeric Compound

-

Plain Copper Wires covered by a Polymeric Compound

-

Plain Copper Wires covered by a Polymeric Compound

EARTH CONTINUITY CONDUCTOR

-

Plain Copper wires

-

Plain Copper Wires

-

Plain Copper Wires

STRING SEPARATOR

-

Non-Hygroscopic

-

Non-Hygroscopic

-

Non-Hygroscopic

OUTER SHEATH

PVC (Polyvinyl Chloride)

LSZH (Low Smoke Zero Halogen)

PVC (Polyvinyl Chloride)

LSZH (Low Smoke Zero Halogen)

PVC (Polyvinyl Chloride)